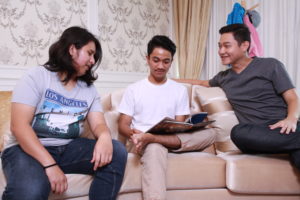 A nice little chat I had with 27 year old Social Media Specialist, Feryan Saputra, has given me an extra insight on flatsharing. It sure is an experience that will allow you to develop a new sense of understanding and cooperation towards others. Here's what he shared with me.
So how long have you been living in a shared apartment?
For about six months now
What type of an apartment is it?
It's a two-bedroom apartment at Menara Kebon Jeruk, Duri Kepa, Kb. Jeruk, West Jakarta 11510 , with a bathroom, and a kitchen.
How did you decide to live in an apartment?
Well, I wanted to find a place closer to where I work, and apartments seemed pretty ideal, it's safe and pretty comfortable.
How did you find this particular apartment?
My friend found it first, actually. I believe she managed to find it only by word of mouth. She's been living there for quite a while before I finally moved in
How did you first found your flatmate?
Actually we used to work together at this consultant agency. But then she got a new job in Kebon Jeruk area. Not so long after that, I got a job also close to that area, so I hit her up 'cause she's a good friend of mine, asked around a bit, and she asked me to move in with her because there's a room available at her place.
What's so fun about having her as a flatmate?
Being able to share the living cost, of course. But also having somebody to exchange thoughts and to ask for advices on work-stuff or whatever. It really helps sometimes, you know. She's a really good friend so everything she does to help me is usually on point.
What's the downside?
Sometimes fighting over who gets to use the bathroom first. hahaha.
What do you think about the flatsharing trend?
It hasn't been recognized as well as it should, here in Indonesia. Probably because we're still bound by a lot of the traditional culture and norms and all. Another thing is, you can't really deny the difficulty of finding people who wants the same things as you. For example, someone who also wants to live in a certain area, or a certain apartment. Also, finding the person with similar habits. For example, it's hard to find a fellow non-smoker, or a fellow neat-freak that wants to live in the same area. Point is, there are still a lot of things to think about before one could finally decide to share a living space. But once it's settled, it can be awesome.
Would flatsharing be something that you'd recommend?
It sure has a lot of benefits, so yes, I would recommend it.
So what are your thoughts about Serumah.com?
I would definitely use it. Especially if it has all these filters and customizations that fits my needs or my preferences.